These kids are relentless! Check it out:
Fri. Dec. 19: A Memorial Show for Max Friedenberg
D-Numbers (http://dnumbers.com)
I Heart Metal (www.myspace.com/iheartmetalmusic)
Flamingo Pink! (http://soundcloud.com/flamingo-pink)
The Proxemics (http://highmayhem.org/artists/music/the-proxemics)
We Drew Lightning (http://soundcloud.com/we-drew-lightning)
Jesse Malmed (www.jessemalmed.net, http://vimeo.com/jessemalmed)
Plus a raffle, cool art, and more!
@ Warehouse 21 (1614 Paseo De Peralta, Santa Fe) 6:30pm, All proceeds will go to Max's daughter.
Sat. Dec. 20- The Buying Up of All Things
Come on by and buy so many of Andy and Ray and The Tan's things! Books, movies, magazines, tons of old VHS, music, tapes, 60's, 70's, & 80's filth, clothes, gear, tools, art, equipment, thrills, items, coffee and THINGS! @ The Tan (1415 4th SW) All Day!
Sat. Dec.
20- Holy Shit! An evening of sacred & profane art & music w/
Thomas Haag
& friends:
Joel Davis
Jean-Milu Truesdale
Jodie Herrera
Jessica Chao
Dené Shelton
Karen Hipscher
Brapola (http://brapola.blogspot.com)
Roman Lopez (and this)
Reyes Padilla
Julie Brokken (www.juliebrokken.com)
exterior installation by Lance Ryan McGoldrick
DJ Caterwaul plays the songs that makes the art fly.
@ Factory on 5th / 5G North (1715 5th St. NW) 5-11pm, refreshments and art raffle, Free!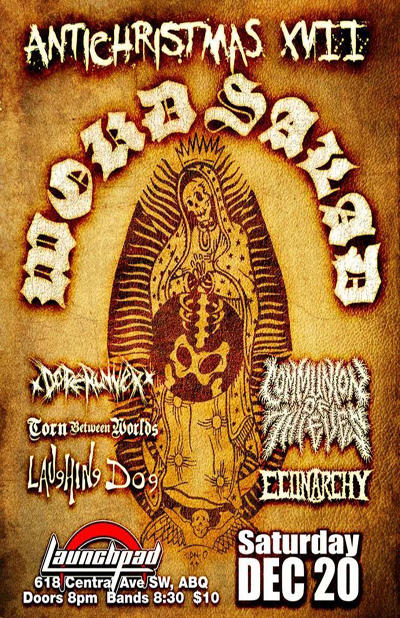 Sat. Dec. 20- Anti Xmas XVII!
Word Salad Reunion! Goin WAY BACK
Laughing Dog (Oldtown grind- www.myspace.com/laughingdogz)
Econarchy (ex-Fanatics/Logical Nonsense heads)
Doperunner (CO- http://doperunner.bandcamp.com, www.reverbnation.com/doperunner4)
Communion of Thieves (El Paso bilingual political grind- www.reverbnation.com/communionofthieves, http://communionofthieves.bandcamp.com)
Torn Between Worlds (http://tornbetweenworlds.bandcamp.com) @ Launchpad (618 Central SW) 8:30pm, $10
Train Conductor (http://trainconductor.bandcamp.com)
DJ Zenova (https://soundcloud.com/zenova)
Summon (kaleidoscopic grunge-hop www.summon.bandcamp.com)
Time Parents (last show ever! https://timeparents.bandcamp.com)
@ Sister (407 Central NW, below the Anodyne) 9pm, No Cover, 21+
Sun. Dec. 21- DJ Caterwaul guest hosts The Spoken Word Hour from 8-9pm, followed by his regular 3rd-Sunday Other Voices, Other Sounds from 9-11pm and The House that Jazz Built from 11pm-1am, all
on KUNM 89.9 FM.

Fri. Dec. 26 –Low Life Happy Hour w/ DJs Caterwaul & RyGar
"Low" as in downtown, underground, lowdown'n'dirty; featuring Garage & Psych, Roots & Raw, Post- & Punk, Freak & Funk, Rock & Wave, Vinyl & Voodoo... Mixed Media, fo'show.
@ The Blackbird (509 Central NW, downtown) 6-9pm, Free, 21+
Seeya somewhere soon! Support local independent & underground media; practice self-expression. Small things grow tuff in the desert.
-DCat